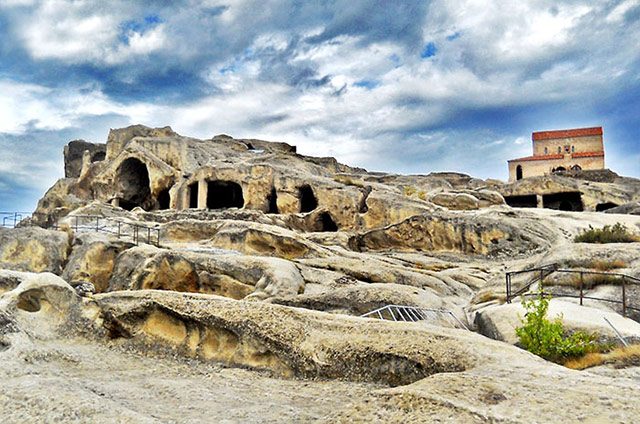 On our tour to Gori-Uplistsikhe you will have an opportunity to visit several sites from different times of Georgian history, such as Uplistsikhe cave town and Joseph Stalin's home museum.
We will visit:
Uplistsikhe, in translation Fortress of the Lord, is a cave town fortress situated on a rocky massif on the left bank of the river Mtkvari. Dating back to I-II millennium B.C. Uplistsikhe was an important religious, political and cultural centre in the Hellenistic and the late Antique periods. Visitors can still walk among the ancient streets, rock-carved theatre, royal halls, pharmacy, pagan temples and Christian churches, while the remains of granaries and large clay wine vessels give us some clue as to the daily life of the inhabitants.
Joseph Stalin's Museum in Gori – Stalin originally Georgian, was the secretary general of the Communist Party during second world war and one of the most influential dictators of modern times. Museum features Stalin's house – a hut where he was born; his armour plated railway carriage and a statue that was controversially standing in the main square of Gori up until 2010. In addition, many items owned by Stalin, including some of his office furniture, his personal belongings and gifts made to him over the years. There is also much illustration by way of documentation, photographs, paintings and newspaper articles.
Lounch in Gori – at own expense.
Return to Tbilisi.