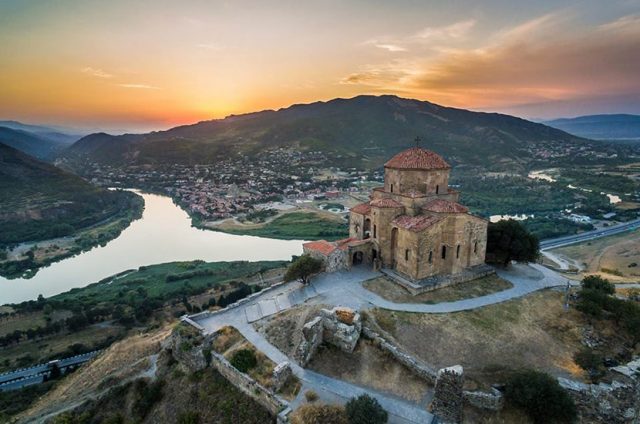 Depart to the ancient capital city of Georgia Mtskheta (25 km),
Jvari (VI c)- On this location in the early 4th century Saint Nino, a female evangelist credited with converting King Mirian III of Iberia to Christianity, erected a large wooden cross on the site of a pagan temple. The cross was reportedly able to work miracles and therefore drew pilgrims from all over the Caucasus. From the slopes of the hill on which was erected monastery Jvari, you can see merging steams of two rivers: Aragvi and Kura (Mtkvari).
Svetitskhoveli Cathedral – center of Orthodoxy Georgia (1010-1029), is known as the burial site of Christ's mantle.
Samtavro Transfiguration Orthodox Church and Nunnery of St. Nino in Mtskheta. The church was built in the IV century and was reconstructed in the 11th century. In this church are buried King Mirian and Queen Nana, they the first accepted holy Baptism. Also there are sacred relics of the Venerable confessor and fool-for-Christ father Gabriel which you can concern.
The Lunch for additional fee in the tavern"Salobie" where you can taste the Lobio (The beans) prepared in small bean pots of clay with Mchadi (a flat cake from cornmeal), all sorts of a pickles, khachapuri, shish kebab, khinkali.