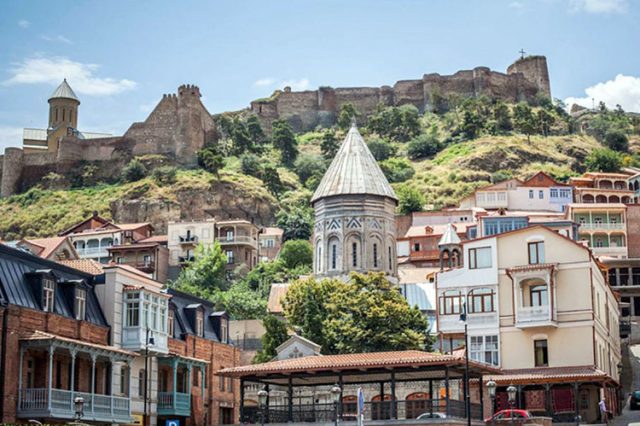 After breakfast visit of the largest historical museum of Georgia, this holds many shrines, works of art and archeological finds.
The temple Metekhi (V-XII in) where are based St. parts of one of the Georgian great martyr Shushanik, killed by her fire worshipper husband in the V century BC. Here many times prayed the queen Tamar.
Narikala fortress (IV in) – soul of Tbilisi. The whole city is in front of it on the palm. In the territory of a citadel there is St. Nicholas temple.
Sioni Cathedral (VI-XII in) – constructed for the sake of an Assumption of the Mother of God – one of the most known monuments of the old city, named in honor of the Jerusalem Sion, where the St. cross of an enlightener of Georgia, St. Nino, is stored.
Walking through the ancient streets of the city visiting the square of three churches. The place where nearby coexist the Orthodox Church, Synagogue and Mosque.
Shardeni Street is a favourite place of pastime for residents.
Theater of puppets, with the monuments of heroes of the works of Niko Pirosmani and well known sculptural work of Berikebi.
Holy Trinity Cathedral is one of the greatest structures of the last century.
Lunch with Georgian cuisine and wine.
After lunch visit of the mount Mtatsminda (Holy mountain) where is the Pantheon of Georgian writers and public figures. After visiting the Pantheon rise on a cable car, from where the whole city is visible as on a palm.