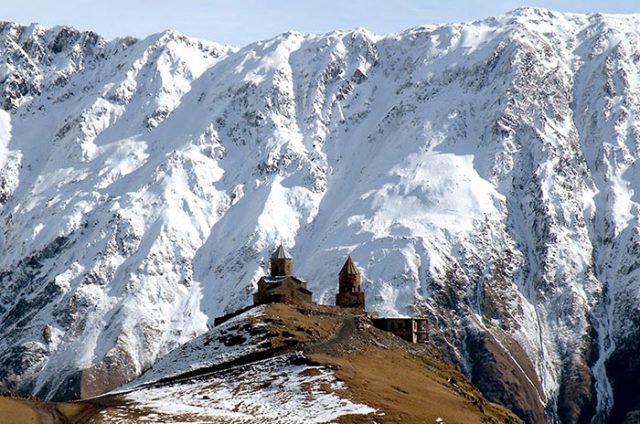 Trip to Ananuri-Kazbegi includes several touristic areas, such as Ananuri architectural complex and Zhinvali water reservoir and Kazbegi village.
We will visit:
The Zhinvali Dam is a hydroelectric dam on the Aragvi River in Zhinvali, Georgia in the Caucasus Mountains. Despite its obviously artificial origins, reservoir blends in with the surrounding environment perfectly and delights visitors with its Turquoise waters. Enjoy the view of the reservoir from Ananuri Fortress, which is a popular tourist sight and for its stunning, panoramic views. Descending to the shores of reservoir you will notice ruins of church, belonged to an older settlement that was relocated out of the flooding area of the dam.
Ananuri is a fortress situated on the foreland by the Aragvi River, not far from Zhinvali water reservoir and about 70 km from Tbilisi, Georgia. It was built by the Dukes of Aragvi and its earliest parts date from the 13th century. The fortress is on the UNESCO Tentative list. The fortress consist of two fortifications joined by a crenellated curtain wall. The upper fortification with a large square tower, known as Sheupovari, is well-preserved.
Confluence of two rivers. There is an incredible place that attracts many tourists in the east of Georgia, the region Mtskheta-Mtianeti (near Pasanauri village). You can see the confluence of two rivers there – the white Aragvi and the black Aragvi.
Gudauri The ski resort is located on the south-facing plateau of The Greater Caucasus Mountain Range in Georgia. The resort is situated in the Stepantsminda District, along the Georgian Military Highway near the Cross Pass, at an elevation of 2,200 meters, above sea level with skiable area enjoying maximum exposure to the sun. The resort offers high quality skiing opportunities. The slopes of Gudauri are completely above the tree line and are best for free-riders and are generally considered to be avalanche-safe. The ski season lasts from December to April.
Monument or Treaty of Georgievsk Monument is a monument build in 1983 to celebrate the bicentennial of the Treaty of Georgievsk and ongoing friendship between Georgia and Soviet Russia. Located on the Georgian Military Highway between the ski resort town of Gudauri and the Jvari pass, the monument is a large round stone and concrete structure overlooking the Devil"s Valley in the Caucasus mountains. Inside the monument is a large tile mural that spans the whole circumference of the structure and depicts scenes of Georgian history.
Tickets can be booked online with promotions and here, at our office
A few quick facts:
Departing: daily
Meeting time: 08:30
Meeting point: Georgia, Tbilisi, 1 Khidi street
Tickets can be booked online with promotions – HERE or at our Office
Not included to the price of tour:
Lunch
Rafting
Paragliding